Chief Mens 26" by Firmstrong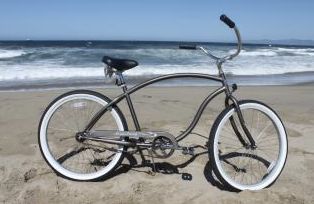 Chief Mens 26" by Firmstrong
Highlighted Features:
*17" Extended Length Steel Frame with Forward Pedaling Design and 26" Painted Aluminum Wheels.
*Great beach cruiser bike for tall men or those who would like more leg and arm extension. 4" extended frame creates more space between rider and handlebars.
*Forward pedaling design allows riders to keep seat closer to ground while still getting proper leg extension.
*Circular, High Arching Top Tube Frame Design.
*Single Speed Bike with a Pedal-Backwards Coaster Brake for easy pedaling and smooth braking
*Dual Spring Oversized Seat for Added Comfort
*2.125" Wide Tires provide a cushioned, relaxed ride for easy rolling.
*28.5" Wide Chrome Plated Cruiser Bike Handlebars with Synthetic Leather Grips.
*Fits Most Men 5'4" – 6'4" Tall.
*The Seat and Handlebar Height and Tilt can be adjusted to properly fit the rider.
*Color Matched Fenders can be Purchased Separately.