Bella Fashionista Ladies 3 Speed 26" by Firmstrong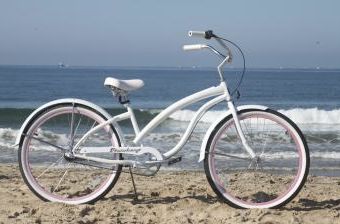 Bella Fashionista Ladies 3 Speed 26" by Firmstrong
Highlighted Features:
*17" Extended Length Steel Frame with 26" Painted Aluminum Wheels and Front/Rear Fenders.
*3 Speed Ladies Bike with Shimano Internal Gear System, shifts quickly and easily and requires little maintenance.
*Great recreational riding bike for taller women or those who would like more arm extension. 2" extended frame creates more space between rider and handlebars.
*Thick top tube design with Hawaiian flowers, Front/Rear Fenders, and Painted Rims.
*Pedal-Backwards Coaster Brake for easy pedaling and smooth braking.
*Dual Spring Oversized Seat for Added Comfort.
*2.125" Wide White-Wall Tires provide a cushioned, relaxed ride for easy rolling.
*28.5" Wide Chrome Plated Cruiser Bike Handlebars with Synthetic Leather Black Grips.
*Fits Most Women 5' – 6' Tall.
*The Seat and Handlebar Height and Tilt can be adjusted to properly fit the rider.