T-Shirt "Skully" - Men by Ruff Cycle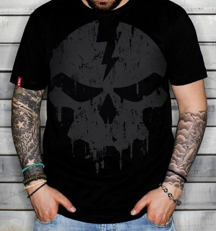 T-Shirt "Skully" - Men by Ruff Cycle
RUFF, rugged, raw - initially we thought "cabbage" for a brand logo, because of its unconventional taste, healthy attributes but yet outlaw reputation amongst the vegetable variety and none the less as an iconic feature of görmanism - then somebody said "skull" and we loved it.

 Our shirts get prewashed to reduce the shrinking level to a minimum. The use of single jersey allows the best wearing experience.

 So our prints and the shirt itself are produced with a maximum quality. One more thing - every shirt has our flag label with skully sewn on the right arm.
Material: 100% ring-spun Cotton made in Turkey, Single Jersey, Medium Fit
 Thickness: 175g/qm